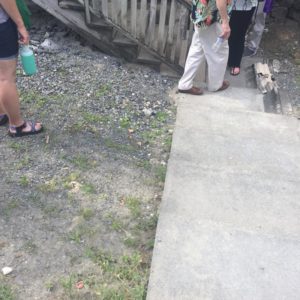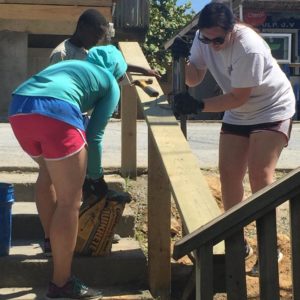 Before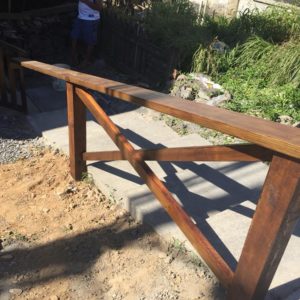 After
Tuesday, we woke up and arrived at Mrs. Elva's eager to get started on the back staircase. We arrived, and the island was experiencing a power outage at the time, which is common, so we weren't able to use our power tools to cut the wood for the handrail. We did a lot of pre-measuring and prepping to make the cuts once the power was back on. We poured concrete into our newly dug holes to secure our post and began staining the handrail we built in the front the day before. In addition to that we secured the existing front staircase and began to stain it as well. We had also found some scrap wood in the yard and made some much-needed repairs to her fence that she had tied together with twine, wire and whatever else could be found to keep it together.
We visited Arlen again, took him lunch and prayed with him. He seemed happy to see us again.
Throughout the day, we also had the help of some of the local children who stopped by on their way to and from school. Anytime they saw a familiar face from our group, they were eager to stop by to chat or lend a helping hand at whatever task we were working on. It was very moving getting to watch those interactions among others, as well as getting to learn and teach different skills with team members as well as the locals and the kids.
In the afternoon the first pieces of wood were being nailed up for the back staircase and the first round of paint for the front porch began. We went back to the house and wrapped up the evening with our devotional and another beautiful sunset.
Written by Natalie Morgan