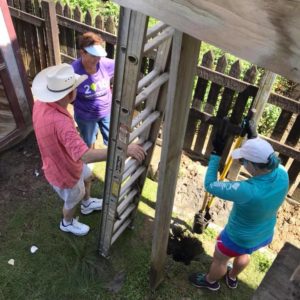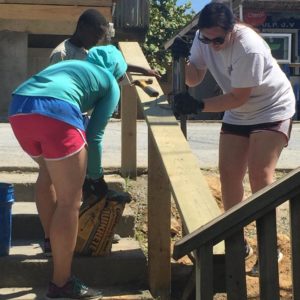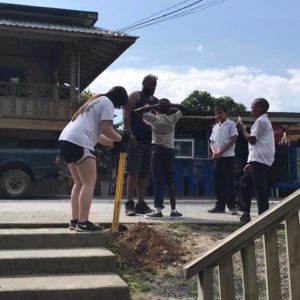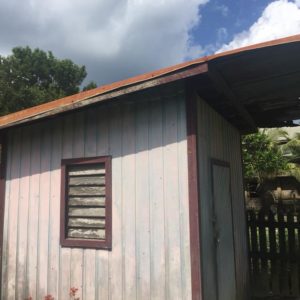 We arrived on our first day of work and immediately began tearing off the old, rusty metal roof from Mrs. Elva's laundry shed – this consisted of three people thrusting a wooden pillar into the roof from below and a couple of guys on top and along the side removing what nails they could that were not rusted. We slowly peeled back the old roof and quickly replaced it with a new metal roof.  We then began removing the old handrail from the back staircase, measured and planned for two new structural post to be put in below for added support. This meant the ground must be prepped and holes dug, yay!
As this went on the preparation for the new front handrail began. Several of us alternated with the post hole diggers and shortly before lunch we were at a stopping point waiting for additional supplies to arrive to start the next step of the project.
At first, we were struggling to figure out what to do during the hour we had before lunch and the remaining supplies would arrive, but this time actually provided us a unique opportunity to minister to a gentlemen next door. In the back of the house next door there was a gentleman, who was essentially in jail cell built into the house. He had been shouting gibberish and some obscenities at us throughout the morning. Mrs. Elva had told us to ignore him, that he was crazy, and he was known for harassing people. He was clearly mentally ill. His parents had been deceased for some time and he was now left to be cared for by his sister and nephew. The nephew lived upstairs and provided the essentials, food & water.
With the hour of down time a few of us had it on our hearts to go visit with Arlen. We went over and after a few minutes of calming his excitement from having visitors, we were able to engage in conversation with him. Some of it was nonsense but at times you could tell he clearly understood. We asked his age and after asking what year it was he was quickly able to tell us that he was 59 years old. We offered to pray with him and he was happy to have us do that. We broke for lunch and following lunch went back to see Arlen with some of our leftovers. We noticed that the second half of that day Arlen seemed to have a peace about him that he had not had that morning or the previous day. He was no longer shouting obscenities but would from time to time make sure we still knew he was there.
We now had our supplies and started quickly on the handrail that would lead from the bottom of the front staircase to the top of street. Mrs. Elva told us that every morning she'd have to wait at the bottom of the steps for someone to walk by so she could ask for help to get up them. She used to do it on her own, but recently fell and ended up in the hospital so she no longer felt comfortable climbing them without support.
We were able to get the entire structure of this handrail done that afternoon and knowing that we were getting to build that for her so that she didn't have to be dependent on someone helping her get around every day meant a lot. After a hard day's work, we went back to the house, sat at the table together for dinner, watched the most beautiful sunset and ended the night with our Team lead devotional.
Written by Natalie Morgan and Hannah Lambert