Welcome Video
Celebrating VE Day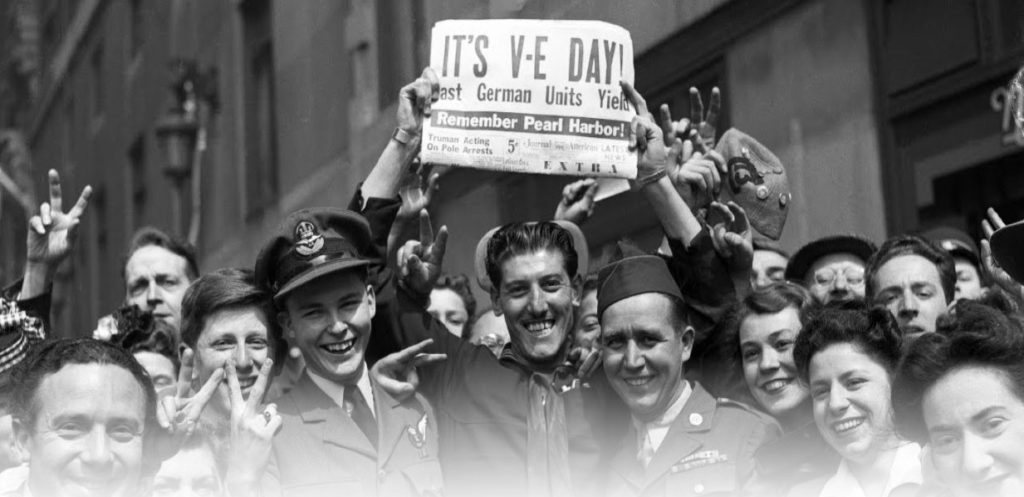 It was 75 years ago on this very day – May 8, 1945 – when church bells rang out across the United States, their echoes signifying the surrender of Nazi Germany to the Allied forces. World War II had finally ended in Europe, and May 8 forever became known as "Victory in Europe Day" or simply "VE Day."
The second world war would cost 407,000 American lives and more than 70 million around the world.
Germany's surrender came 5½ years after Hitler's army invaded Poland in 1939 and 3½ years after they declared war against the U.S. on December 11, 1941 – following the Japanese attack on Pearl Harbor four days prior. After VE Day, attention turned toward finishing the war against Imperial Japan.
However, the day provided a much-needed boost to our country's morale. Thousands gathered to celebrate in New York's Times Square, and they were dancing in the streets in New Orleans.
President Harry Truman announced the victory in Europe to the American people, then proclaimed Mother's Day to be observed on May 13, 1945, to "…acknowledge anew our gratitude, love, and devotion to the mothers of America… in this year of the war's greatest intensity we are ever mindful of their splendid courage and steadfast loyalty to the highest ideals of our democracy."
75 years later, the bells celebrate VE Day again.  Enjoy today's Carillon concert at St. Luke's.
Let freedom ring.
GOING FURTHER
Continue to honor the service of our veterans and active-duty military personnel through writing handwritten Thank You notes on the cards you were given as you arrived this evening.
Carillon Concert – 5:30 p.m. at the Downtown Campus

God of Our Fathers
Faith of Our Fathers
Onward Christian Soldiers
Sentimental Journey
When Johnny Comes Marching Home
Don't Sit Under the Apple Tree
We'll Meet Again
National Anthem
My Country tis' of Thee
America the Beautiful
Battle Hymn of the Republic
God Bless America
The St. Luke's Carillon
First installed in 1956, the St. Luke's carillon houses 42 bells, making it one of the top ten largest carillons in North America. Learn more about the carillon at the link below.