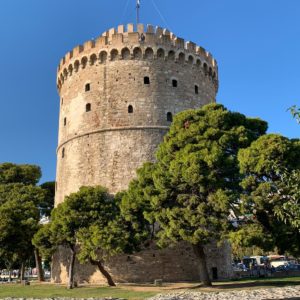 Once we arrived in Thessalonica, we began our exploration of the ministry of Paul. The city of 1 million people was named by the general Cassander in honor of his wife, Thessalonike, who also happened to be the sister of Alexander the Great. We saw the famous White Tower.  Originally it was nicknamed "The Bloody Tower" for the time when the region was held by the Ottomans who used the tower as a place to imprison and kill Christians. When Greece gained its independence it was whitewashed and renamed. From there we walked down the shore of the Aegean Sea to the statue of Alexander the. Great on his horse, Bucephalas.
We were blessed to see the church dedicated to St. Demetrius, the patron saint of Thessalonica. Demetrius was a Roman soldier who was martyred for his conversion to the Christian faith. While there, a group of Polish nuns on a pilgrimage broke out. in singing. and we were captivated by the beauty of the moment.  We drove by the Arch of Galerius in the center of the city. Also named Kamara, it was erected to commemorate the victory of Galerius in the war against the Presians.
It is hard to comprehend that we were in some of Paul's ministry sites – we felt truly blessed!