If you're a parent of school-age children, you're li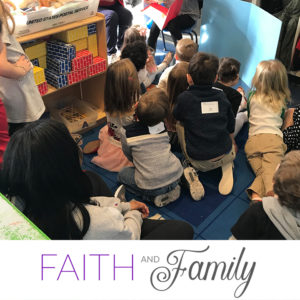 kely experiencing the dilemma of choosing which activities will benefit your children and which ones can be weeded out.  Indeed, there are MANY choices!  Here's one that should be easy to make; weekly Sunday school attendance.  Spiritual formation begins at home, but it doesn't end there.
"God never intended a family's faith to occur apart from local church engagement.  But neither did He design the church to replace the home.  Left to do the entire job by itself, a church can only impart enough of the faith to inoculate kids against taking it seriously.  Church and home, like a watering can and the soil in a flowerpot, are both essential to the job."  (It Starts at Home-Bruner & Stroope)
We are committed to helping with the spiritual formation of your children, and Sunday school is an important component. 
Here's why: 
Sunday school helps children respect, appreciate and utilize the Bible.
Our St. Luke's Sunday school curriculum takes kids entirely through the Bible over a three-year period.  If a child attends regularly, knowledge of basic Bible stories will be firmly established by 5th grade.  When we experience life's trials, it's crucial to have Biblical knowledge to fall back on.  The Bible has every answer to life's questions, and children who are firmly established in the Bible will know where to go when they need help.
Sunday School teaches children how to navigate the Bible.
Children learn the location of the books of the Bible, as well as how to look up specific passages.  Have you ever been frustrated because you couldn't find a scripture?  Sunday school gives children practice at learning the location of scriptures and helps them become familiar with the layout of the Bible.
Sunday School gives kids a chance to ask questions.
Sunday school is a safe place for kids to ask important questions.  Common ones are: "Who made God?"  "How do I know I'll go to Heaven when I die?"  "Will my pet be in Heaven?"
Sunday School develops a community of believers.
Children who attend Sunday school develop friendships and become a community of Jesus lovers.  They encourage one another in the faith!  We all know the importance of having friends who are good role models, and Sunday school is a place where kids can establish friendships that may last a lifetime!
Sunday School plants spiritual seeds.
Sunday School is the place where seeds of God's love are sown.  On the outside, children may seem unphased, but on the inside, they're growing more like Jesus with each Bible lesson.   This weekly session with a teacher who is prepared to share God's love with children, can help boost the spiritual formation that we know begins in the home.
Those blessed with the gift of children and grandchildren are called to inspire and nurture Christian faith and godly character in the next generation as life's highest calling (Deut. 6:6-9; Psalm 78:1-8).
You can do it; we can help!