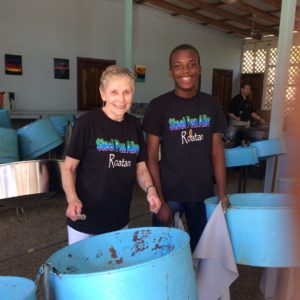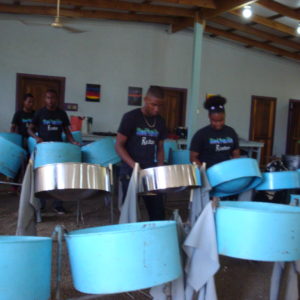 Free day – on Friday, we take a little time for ourselves and engage in some of the local activities the island has to offer. Tourism being there biggest employer and income on the island, we like to contribute where we can.
Five of the team members took the opportunity to take Steel Pan lessons.  Every Friday, Miss Deborah, a music teacher on the island, teaches Steel Pan to interested local Mid High and Senior High students free of charge.  Visitors receive a two hour lesson for a nominal fee.  The five that went learned to play three songs and received lessons on the history of the Steel Pan and their construction.
A few others opted to learn the new skill of stand-up paddle boarding which was comical, frightening, exhausting and a lot of fun.
In addition, there was time for souvenir shopping and taking in a little more of the tourist activity. We savored our final sunset over the water and closed the night with our last devotional.
Written by Natalie Morgan, Janice Low, and Leon "jingo" Jingozian