Today I arrived in Ulyanovsk by overnight train from Moscow.   I was met by my dear friend Sasha and Pastor Nadya and her husband Stas.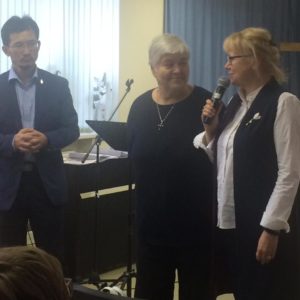 Pastor Dena Berlyand retired at this year's Annual conference as she had reached the mandatory age at 71. She was recognized at the meeting of the Annual Conference in Moscow in April and Bishop Eduard Khegay and the Volga region DS thanked God for her many years of faithful service. He also agreed to appoint Natasha Sidorova (a very active member if the Ulyanovsk UMC) to help lead the St Luke's church at the nursing home.
We had a wonderful worship service on June 2. Pastor Nadya reminded us of how important a spirit of constant gratitude is. We should practice daily by thanking God for everything and developing eyes to see all that we truly have to thank Him for.
The choir led us to raise our voices in worship with wonderful duet and solos as well as group singing. On such a special day we of course would share communion. Pastor Nadya and Pastor Dena served us.
---
We have a very dedicated group of parents and there were 10 children at church on Sunday. Tania has been spearheading the teaching and work with our children and has been faithfully leading this growing group of children. They are not only growing up but they are also growing in number. In 2015, Susan Easttom came to visit Ulyanovsk from St. Luke's and saw the work Tania was doing. Recently Tania and Kira attended a workshop led by Godly Play Canada . They reported on what they learned and are already implementing. The training shows how to help children go spiritually through play. It is titled "I wonder" and not only focuses on what is taught but how to build the environment or room to lead children as they grow in their walk with the Lord. Here are some photos of what Tania is doing along with Kira and other parents.
---
There were 3 video presentations shown to enthusiastic applause. We prayed for Pastor Dena and for Natasha Sidorova who will follow in Dena's footsteps. Lauranne presented her with letters and gifts from St Luke's in OKC including a cross from Jerusalem as well as a prayer shawl knitted by Ruby Horse. Pastor Nadya asked who will come forward to speak about Dena. And many came from an 8-year-old telling how much she leaned from Dena on through great expressions of love and regard from many members of the church community.  It was a day of laughter and tears – eating, singing, laughing and sharing – all what it means to be the body of Christ.
Written by Lauranne Harris