Downtown

Campus
Christmas Events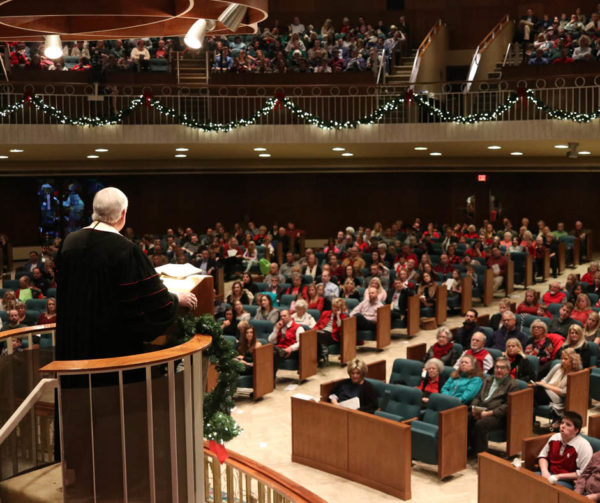 Downtown Campus Sunday Worship
8:15 a.m. Traditional Service
9:30 a.m. LifeLight Contemporary
10:50 a.m. Traditional Service
Advent Festival
November 28 at 4 p.m. 
Bring your family and join your family of faith for a special Advent Festival. Start in the Narthex and enjoy a rotation of options where your family can create beautiful Christmas decorations while enjoying a warm cup of cocoa and Christmas goodies.
Esther Women: Christmas with Kristin Chenoweth
November 29 at 11:30 a.m.
All women are invited to hear a special guest speaker singer Kristin Chenoweth. She is an….  Tickets are needed for this event and are $25 each. A live stream pass is also available for $10.
Children's Christmas Musical
December 5 at 3 p.m.
The Children's Christmas Musical, All About That Baby, will be sure to put a smile on your face. The musical will take place in the Christian Life Center and there is no cost for admission.
Repeat the Sounding Joy – Christmas Concert
December 8 at 7 p.m.
Enjoy wonderful music by St. Luke's Chamber Choir and Orchestra along with special guests Eryn LeCroy, Marcy Gonzales, Tommy Cunningham and the Children's Choir. 
 A Holiday Reception hosted by the Hospitality Team will follow in the Narthex.
Poteet Theatre Presents: ELF The Musical
December 10-18
Have a holly and jolly Christmas season at St. Luke's Poteet Theatre! Get ready for lots of laughs during "Elf The Musical." Tickets are $15 for adults, $10 for seniors, $5 for children 12 and under.
All Church Christmas Party
December 12 – Downtown Campus
Gathering Hour starts at 4 p.m. Dinner and show at 5 p.m. Celebrate with the St. Luke's family of faith at our All Church Christmas Party! Purchase tickets in Threefold. $10 for CLC event, $5 for Children's Party
LifeLight Christmas Worship Concert
December 19 at 9:30 a.m.
The LifeLight Band will perform a Christmas Concert! Dr. Long will be preaching during this service as well. Come early for a great seat.
Angel of Hope Worship Service
December 19 at 5 p.m.
This service is to honor families whose loved ones have entered the kingdom of Heaven, and to offer comfort and strength by sharing faith and hope together. The Angel of Hope Worship Service will be in Mansion Library and Gardens at the Downtown Campus.
Dinner with Love
December 23 at 5:30 p.m.
You can deliver a delicious home-cooked meal to a struggling family, just in time for Christmas. "Dinner With Love" is a ministry that reaches out to hundreds of families in the community.
Christmas Eve Worship Service
December 24: 2:30, 4:30, and 6:30 p.m.
All services at the Downtown Campus will feature Dr. Long's Christmas message and candle lighting.
2:30 p.m. Traditional Candlelight Service, sermon by Dr. Bob Long
4:30 p.m. Family Candlelight Service, sermon by Dr. Bob Long
6:30 Traditional Candlelight Service, sermon by Dr. Bob Long
St. Luke's UMC
Downtown Campus

222 N.W. 15th Street
Oklahoma City, OK 73173
(405) 232-1371